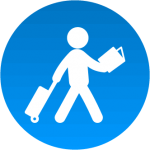 Japan aims to welcome 30 million foreign visitors by 2020, and with visitor numbers climbing yearly, inbound tourism promotion is a major business throughout the country. Even so, many tourism business operators are unfamiliar with the best ways to publicize their region or attraction to attract foreign visitors.
Omega Communications' Tourism Communication Support Service is the ideal service to meet your needs for inbound tourism public relations.
We inaugurated this service in 2005, producing translated materials for sightseeing pamphlets, signage and other communication media issued by major companies and organizations for foreign visitors. We have also planned and operated events to attract foreign tourists and familiarization tours for journalists and travel writers, assisting inbound tourism promotion activities in ways both physical and non-physical.
Thanks to experience gained over the past 10 years, we can help you if you are wondering how to get involved in inbound tourism, and we are ready to assist with any issue related to this field.

---