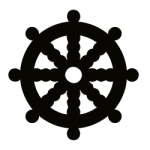 Buddhist terminology and concepts can be difficult to translate clearly. Sutras, the writings of eminent clerics, or even talks by Buddhist priests can be full of unfamiliar ideas even to those who have grown up in a predominantly Buddhist culture.
This can be even more so for those outside Japan who are not familiar with Buddhism. Translation of Buddhism-related materials, however, requires specialist translators who are native speakers of the target language, have a thorough knowledge and understanding of Buddhism, and are able to write texts that are clear and easy to understand.
As part of its Japanese Buddhism International Communication Service (JABICS), Omega Communications has produced English translations of books, pamphlets and scholarly papers on Buddhist doctrine, customs and other subjects. For maximum clarity and effective communication of the subject at hand, translators well acquainted with the differences between the various branches of Buddhism are assigned as required.
Buddhism translation under JABICS is the only service of its kind in Japan, which Omega Communications has been offering clients since 2005.

---
>>Japanese Buddhism Communication Service
>>Works : Buddhism